The Deck Cafe – Red Hill, VIC
Quick scroll to:
Cafe

Local's Choice
Our deck, your deck… it's the local's deck.
At the The Deck Cafe we don't just offer a relaxed atmosphere and delicious food made with the best produce the Mornington Peninsula has to offer. We also give you our entire wine collection at shop prices.
For a small corkage fee you can purchase any bottle of our 300 plus collection of wines to enjoy with your meal out on the The Deck.

So sit back and enjoy the fresh Red Hill air and indulge in a feast of good friends, the freshest food and the widest array of local wines anywhere in Red Hill.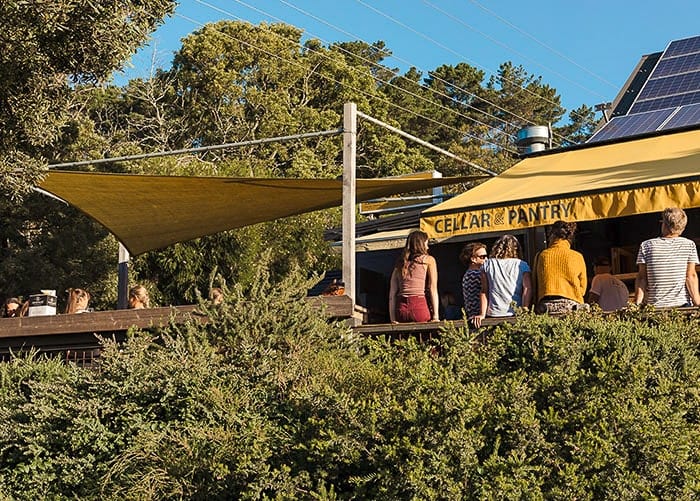 Menu
Pork & apple sausage roll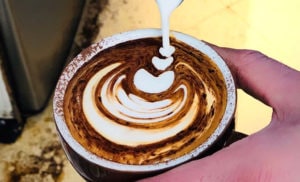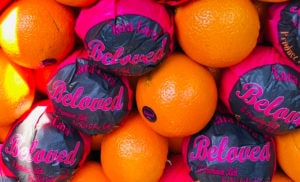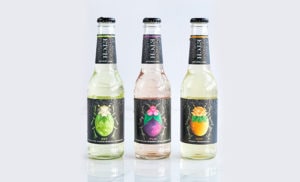 Daily sweets and pastries
Food
Tradie
Toasted Ciabatta bread filled with crispy bacon, 2 poached eggs & relish.
Caprese
Toasted Ciabatta filled with Buffalo Mozzarella, fresh tomato and pesto.
Gluten friendly
Toasted Gluten Friendly bun filled with today's gems – Just ask the crew!
Schnitzel Burger
Filled with Chicken Schnitzel, coleslaw & Swiss cheese.
Italian
Toasted ficelle filled with salami, mozzarella, Spinach and crunchy Romesco.
Prosciutto Ficelle
Toasted Ficelle filled with Prosciutto, Quince Paste, mushrooms, Brie & Roquette.
New Yorker
Toasted sourdough filled Somerville Butcher beef pastrami, Swiss cheese, Sauerkraut & mustard.
the Bazza
Portuguese Chicken, Romesco, Roquette, Aioli & Balsamic dressing on Buckwheat & Chia loaf.
Seasonal Vegetable & Grain Salad
Mediterranean vegetables & fetta tart with/without grain & seasonal salad
Spinach, ricotta & caramelised onion tart with/without grain & seasonal salad
Chicken, Bacon & Chardonnay pie
Pork & apple sausage roll
To Share or Not To Share
Salumi & Cheese board
Prosciutto and salami freshly sliced from our deli, 2 cheeses,  dried fruit with crackers.
Za'atar, Fetta & Pomegranate Molasses Pizza
Pancetta, Caramelised onion & Emmenthal Pizza
Happy Days
Americano - Camapri / Vermouth
Palomita - Tequilq / Grapefruit
Non-Alc Beer
• Hop Nation: 'Mind Your Head' non-alc XPA
Local Beer & Cider
• Red Hill Brewery: Pale Ale
• St Andrew's Beach: Lager
• Bonza: Australian Ale
• Tar Barrel: IPA
• Devil Bend: Kolsch (Golden Ale)
• Main Ridge Cider: Apple
Wine By the Bottle
Purchase any wine from our store to have on the deck and add $3 corkage per person.
Local House Wine by the glass
Chardonnay
Pinot Gris
Rose'
Pinot Noir
Shiraz
Caffeine & Loose Leaf Tea
Coffee - AWAKE by ST.Ali
Coffee sml 4.5.   lrg 5.5
Espresso 4.1
Cucaracha (Correto w/ Grappa) 9
Affogato Cucaracha 12
Chai latte 4.5
Mocha 4.7 / 5.7
Matcha latte 4.5
Tumeric latte 4.5
Hot chocolate 4.5
Ex shot / Decaf 0.7
Babycino 1.5
Soy / Coconut / Almond / Oat / Lacrose Free
sml 50c lrg 80c
Loose leaf tea
Choose from:
English breakfast
Chamomile
Earl grey
Green tea
Peppermint
Ginger and lemongrass
Drinks
Smoothie
Coconut, Banana & Mixed Berry
Mango, Banana & Passionfruit
Cold Pressed juice
Options:
Orange
Apple
Beetroot & Apple
Carrot & Tumeric
Milkshake
Chocolate / Strawberry / Vanilla / Caramel / Banana
Fever Tree
• Cola
• Lemonade
• Grapefruit
Etch sparkling water
• APL- Bush Apple, Kakadu Plum
• RNG- LOrange, Quandong
• MTN- Mountain pepperberry, Raspberry
Mineral water Still / Sparkling
Sweets
Daily sweets and pastries
Pop in to see our decadent sweets and pastries.